SOL~FED~JOE



ARCHIVED CD REVIEWS

See page bottom for more...

Kid Ramos

Copyright 1999 Evidence Music, Inc.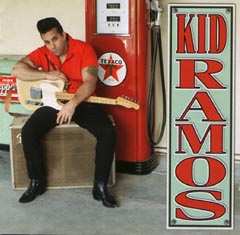 The 1999 solo release by Kid Ramos is smokin' hot!! If you like blues music with varied rhythms, hot horns, and searing guitar that takes your face off, this release is for you. The band includes current members of The Fabulous Thunderbirds including Gene Taylor (piano), Willie J. Campbell (bass), and Richard Innes (drums). Featuring guest appearances by Kim Wilson (T-Birds), Cesar Rosas, James Harman, and others, this one runs the gamut of styles ranging from Chicago classics like Three Hundred Pounds of Joy and Otis Rush's It Takes Time to Pee Wee Crayton's Fiddle Dee Dee to the James Harman penned Helsinki Laundromat Blues.

The opening cut, Dead Love (Milton Campbell - Oliver Sain) begins with a descending horn line giving way to Kim Wilson's soulful vocals and Kid's signature blistering guitar attack. Leave Me Alone features Willie Chambers (of the Chambers Brothers) on vocals and Dave Mathews on organ. Cesar Rosas, who clearly tips his hat to the great Howlin' Wolf on Willie Dixon's Three Hundred Pounds of Joy, adds tremendously to the band's strong performance. This cut, sounding both fresh and classic, is a perfect example of how Kid Ramos manages to satisfy purists and new blues listeners alike. Another highlight, I Don't Believe (Don Robey), a song made popular by Magic Sam, features stunning vocals by Janiva Magness, who can be heard on several other tracks as well.

Kid Ramos is more than a hot guitar player, as evidenced by his vocals on the Kansas City styled I Would Be A Sinner. The song further shows how diverse Kid Ramos' music can be within the blues genre. Whatever style, the rhythm section is tight and driven on nearly every track. Lynwood Slim, another featured vocalist, shines here too. Essentially, every cut on this release is stellar. It is unusual to find recordings where each song either moves, inspires, rocks, or wakes up the listener. This is one of them!!

Other Kid Ramos recommendation:

Two Hands One Heart - 1995

West Coast House Party - 2000

Visit
Kid Ramos
' website for song clips and purchasing info.

Another review:


- copyright EJ WEB 2000 -