SOL~FED~JOE



Review of our demo live CD -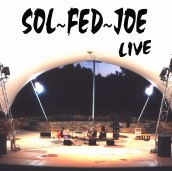 ...reprinted from the Colorado Blues Society HOLLER - Feb. - Mar., 2002.
SOL~FED~JOE, Live, 2000.
I had the opportunity to play with Paul Christophersen, Sol~Fed~Joe's drummer, recently. He relayed the story of the recording of this project to me. How it was in celebration of a friendly competition between a local soccer team and a team from South America at the city park of one of Denver's suburbs (at least I think that's what he said - we were in a bar). Anyway, there was some discussion between the two soccer teams concerning the validity of some of the calls made by the American referee's (the local team won the contest) and after some heated debate, the foreigh team
stormed the stage for some spirited butt-shaking!
I guess they figured, it's just a game, let's dance!
The sound that day was provided by the Northend Sound Company (fortunately enough they were recording that afternoon, resulting in this CD). A basic combo of drums, bass guitar, harmonica and lead/rhythm guitar, these guys deliver a solid set of electric party-blues. This is a fair sampling of what you'll hear when you visit them at their next gig. Troy Fox is handling the harmonica and vocal chores, getting just the right classic distortion for his Chicago harp. The guitar is aptly handled by Edwin Jeffreys with special guest Hubert "Blues" Lawhorn sitting in (Hubert also handled the production of this CD). The rhythm section consists of the aforementioned Mr. Christophersen on the drums joined by Barclay Logan on the bass (and vocals).
Again, the choice of material is classic party-blues tunes by folks such as Willie Dixon, "Magic" Sam Maghett, Earl Hooker, Otis Redding (not "Dock of the Bay" either, but "Mr. Pitiful," not covered as often as it deserves), and Roscoe Gordon. Rocking out on songs like Earl Hooker's "Blues in D Natural" and Kim Wilson's "Walkin' To My Baby" it's no wonder a bunch of
high schoolers from another country couldn't help but dance!
I'm sure they probably didn't understand the lyrics, but the beat is get-out-yer-chair-and-shake-it contagious.
A solid set by a solid local band, check the listings in the Holler calendar and catch these guys live. Check them out on the WEB at http://solfedjoe.tripod.com. I'm sure you could pick up a copy of this lively CD at one of their gigs.
John Toebbe
Boulder Daily Camera - May 2, 2001
The results are in on local music fan Steve Pitt's online poll for Best Colorado Blues Band. Nearly 10,000 votes were cast for more than 30 bands. But for better or worse, the people have spoken, and the Top 10 are in order as follows: Rikki Dee Hall & the VooDoo Hawks, Johnny O Blues Band, Built for Comfort, Otis Taylor, Sol-Fed-Joe, Tempa and the Tantrums, Catfish & the Crawlers, Johnny & the Jukes, Hazel Miller and Emilio Emilio.